12:00 PM CST

LH EQUINE CENTER
4456 149 Ave NW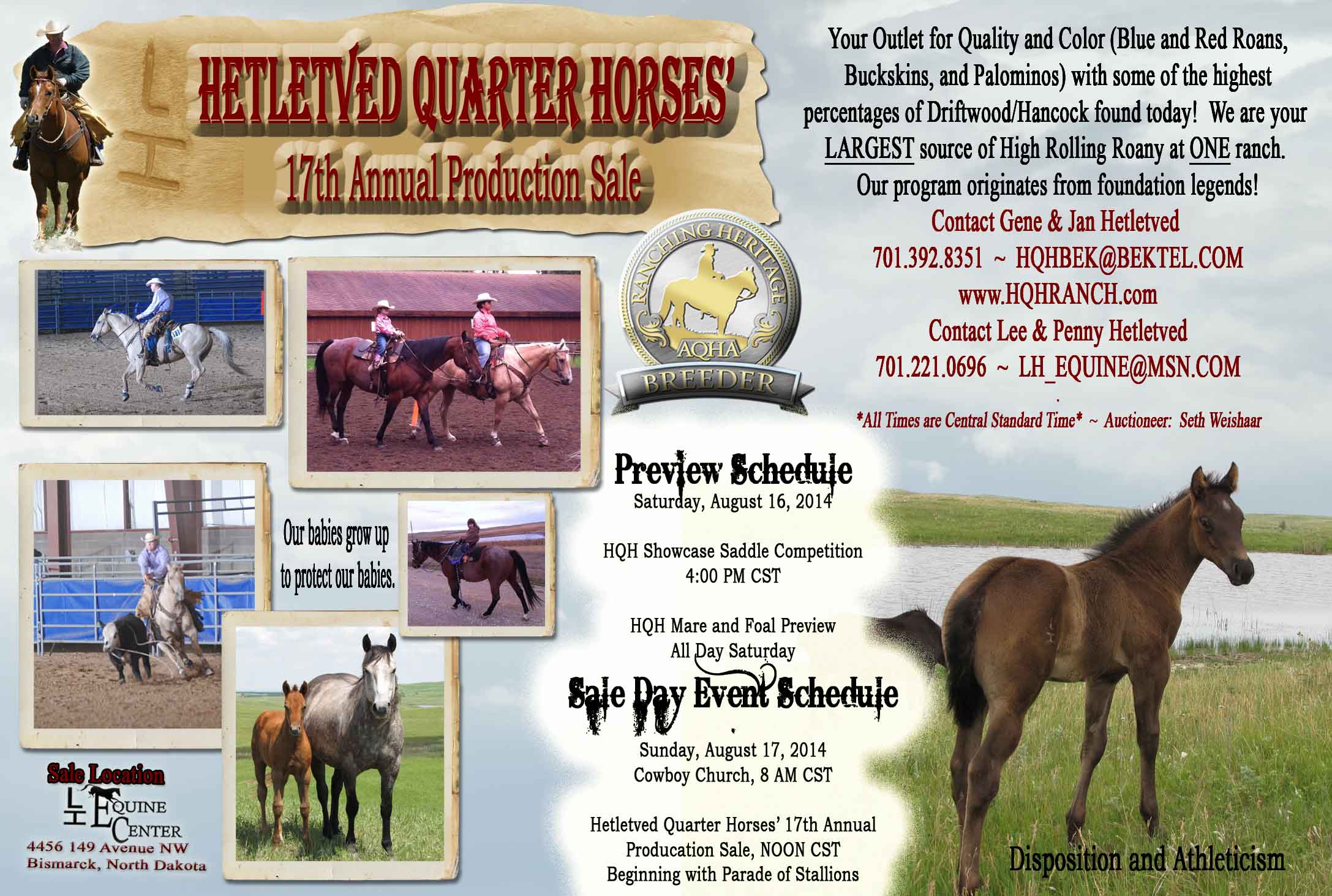 The best kept secret in the Dakotas & Montana!
Over 50 years of breeding in our horses.
We enjoy our horses and strive to make them nice to look at while they are being used. We work cattle the old fashioned way-by dragging them to the fire. Our horses are not strangers to the chores that a ranch requires. It won't matter if you are looking to check those pesky yearlings that refuse to stay in or wanting to stretch that corner fence that won't stay tight; we have a horse bred to take care of you. Whether you are interested in ranch, performance or show, we invite you to stop in and take a look at our horses.
Consistent Hip, Consistent Mind, Consistent Brand
This picture shows 4-year old ranch raised geldings from the Hetletved Quarter Horse Ranch.

Lee calf roping on Junior
(Zan Gold Jackson x Quintas Lucky)
Your Outlet for Quality
Blue
and
Red
Roans!
Our mare band consists of 80% blue, bay and red roans--
along with a few palominos, grays, blacks, red duns, chestnuts and sorrels.
We are proud to have the highest concentration of High Rolling Roany daughters in one band. These Roany descendants are known for their uniformity, maternal traits, good bone and saddle-fitting withers for covering big country. Zan Gold Jackson is an exception cross to these daughters as he shares consistent hip, deep chests, pretty heads and plenty of muscling. The Roany-Jackson foals are formed to function! One is just like the other. Lonsum Drift 045 mixes with the Roany Daughters to give us a strong blend of Driftwood and Hancock. He quickly became an asset to our operation with his kind disposition and incredible pedigree. High Poco Jax and High Rolling Lucky are direct sons of the legendary High Rolling Roany. They cross nicely with many of our mares to offer their sires traits...good-nature, good foot and bone, willingness to work, and ability to cover wide open country with ease.
"The outside of a horse is good for the inside of a man." ~Unknown
Sad NEWS: Sunday, March 16, 2008. Lynne Taylor. "The West lost a horseman last month. When Lynne Taylor collapsed and died at his Shepherd Montana home on March 12, it was more than the passing of a true cowboy and gentleman. It was the passing of an era." [to read more about Lynne & John's horses, see The Cowhorse Confluence; a partnership between: Lazy TL Ranch, Miles City, Montana and Lynne Taylor Quarter Horses, Shepherd, Montana, by John L. Moore]

Webmaster ~Penny Veit-Hetletved